About Us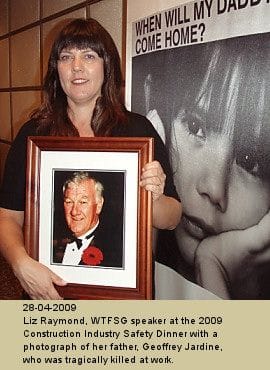 Workplace Tragedy Inc. is both a support group and a campaign organisation. Most of us have lost loved ones and know first hand the deep grief and suffering caused by workplace incidents - in particular, grief caused by workplace fatalities.
We believe that our losses place us in a unique position to provide comfort and support to others who find themselves in this tragic situation.
Our Convenor is Cheryl Romer, a schoolteacher and widow of Bob Romer, who was killed at work at the age of 43 years.
Our aims are to campaign for improved OH&S and workplace laws. We believe workers and their representatives should have more rights to ensure the workplace is safe.
Our aims include:
To provide comfort and support to those persons who have been affected by a work-related tragedy;
To improve industrial safety by raising awareness of the impact of a work-related death on families;
To ease the impact of a work-related tragedy on family members, and to assist in reducing unnecessary pain and suffering by families following a work-related tragedy.
To assist persons to cope with a work-related tragedy
To educate members, and to encourage their participation in forums and with other groups regarding work-related occupational health and safety, workers compensation and work-related tragedies.
To work with, or otherwise combine with, any association, having objects similar in whole or in part to the objects of this Association.
To hold, purchase, lease, sell, mortgage or otherwise deal in property.
To enter into contracts and agreements for the purpose of furthering directly or indirectly any one or more of these objects.
To raise funds for the purpose of carrying on the objects of the Workplace Tragedy Association.
We can't bring back our own loved ones, but we certainly can fight to ensure all workers are able to come home at night.