Profile
Cheryl Romer Convenor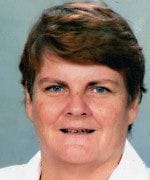 Cheryl Romer has been a teacher for over 25 years. She has a degree in Early Childhood Education and a graduate diploma in Learning Difficulties. Throughout her teaching career she has worked as a preschool teacher, Special Needs teacher and a classroom teacher in schools across Sydney South and Sydney Western areas. She is currently the teacher of a lively bunch of five year olds starting on their education journey.
Cheryl's life was not always one of juggling schedules and timetables. Back in 1988 she was married to Bob Romer, an active unionist and advocate for safe working practices in the construction industry. They had two small children - Luke and Kate. Their life was planned - Cheryl would remain a stay-at-home mum until both their children reached school age and then return to teaching casually a few days a week.
On 24th October that year Bob died as a result of injuries received from a work related accident two weeks previously. From that time on Cheryl's life took a very marked change of direction. She became a full time teacher, moved from their Upper Blue mountains home and relocated her children to Sydney. The family battled a long, protracted court case which took ten years to finalise. At the end of this the family still had no closure.
It was at the Dedication Ceremony of the CFMEU Wall of Remembrance that Cheryl had the opportunity to voice her concerns and relate her story to Wendy McClelland. Speaking to other families at the event and through subsequent meetings, it became apparent that there was a need for families to join together and work towards changing the culture of unsafe work practices. This group could also provide support for each other as they come to terms with the workplace tragedy and its aftermath that had affected their lives.
his set in motion the formation of the Workplace Tragedy Support Group.
Contact:
Email: cherylromer@workplacetragedy.com