Convenor's Message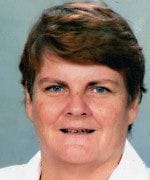 My name is Cheryl Romer and I welcome you to Workplace Tragedy Inc. - a support group for those families touched by life-ending and life-altering accidents at work.
In 1988, my husband Bob died as a result of a workplace accident. At the time I was 35, with two small children, and, like others, I went through the process of trying to make sense of my life post-accident. I dealt with all the legal, financial and emotional challenges that they threw at me. The road wasn't easy, but I felt I had dealt with things fairly well.
Move forward to 2005 when I was asked, as were others, to come to the commemoration at the CFMEU Wall of Remembrance, where an inscription on the wall was made in Bob's honour. As I listened to a young widow delivering a speech about her experience with workplace tragedy, I could hardly believe that in the eighteen years between our husbands' deaths nothing much had changed in regards to the fight we both had to put up to find some justice and closure for ourselves, our late husbands and our families.
This set in motion the formation of a group to support those families affected by workplace tragedy. It is envisaged that this group will not only become a support structure to assist the family through the aftermath of such workplace tragedies but also will act as a lobby group for improvements in workplace safety. It is a vehicle for all of us who have been affected by these tragedies to have our experiences and stories told and to make the general public aware of the long-reaching effects of workplace accidents. This group is already receiving support from Government, Unions NSW, the CFMEU and some Construction Industry employers at its launch on April 28th, 2008 (which is International Day of Mourning for Workers Killed at Work).
As someone who's life, and that of their family, has been touched by a workplace tragedy, I ask you to consider joining our group. It is only with us all working together that any improvements in worker safety can be accomplished.
The power of the group is far greater than the power of the individuals within the group. At the moment the group is in its very early stages and your commitment is simply to become a member so that we have a database of members and can plan accordingly. We are developing a series of forums where we can talk to each other online, and provide emotional support to others in this situation. We hope we have at least learnt from our own devastating experiences, and can maybe provide comfort to others in this situation. We may also be able to get governments, WorkCover, the legal system and the construction industry to take more action to assist those who are in our terrible situation, and put in place better measures for safety and for transparency when a workplace tragedy occurs.
What you can do
I hope that you take time to seriously consider your involvement in our group, which in a way would be a tribute to your lost loved one, as we can only grow in strength and courage together.
Please join us by submitting our contact form, or if you prefer you can contact me personally via email at cherylromer@workplacetragedy.com