Work-Related Fatalities Reported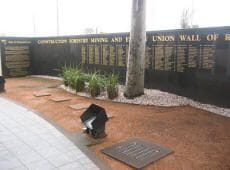 Workplace Tragedy Inc. is continually disappointed by the large numbers of work-related deaths in this country. We have also found it exceptionally hard to clarify the actual number of work-related deaths in Australia, because each state records different types of deaths in a different manner. Many are not reported on for quite some time, others do not fall into a category reported on by a particular state (e.g. commuting deaths). We consider all deaths are work related when a loved one does not come home from work at the end of the day.
This is the commencement of a project to identify actual numbers of deaths that are work related.
For this reason, and to pay honour and tribute to workers who have lost their lives in work-related incidents, we have listed the details of deaths that we know about.
The following tables show totals only for details click on the relevant state or listing below.
We still do not have access to dust-related deaths, but are hopeful we can obtain this information in the not too distant future.
If you know of a work-related death that is not listed here, please let us know by emailing wendylark@workplacetragedy.com.
*Note - Safework Australia only reported 32 Non-Mining NSW Deaths + 3 Mining NSW Deaths, whereas we had been advised of 48 Non-Mining Deaths In NSW + 3 Mining NSW Deaths - thus our death totals differ by 16